H.R. Giger Retrospective Exhibition Fabrik der Künste
Fabrik der Künste in Hamburg presented a retrospective exhibition of the great Swiss artist HR Giger, with artworks from the collections of H.R. Giger and Marco Witzig (Giger Work Catalogue). The exhibition gives an overview of over 40 years of Fantastic Artwork.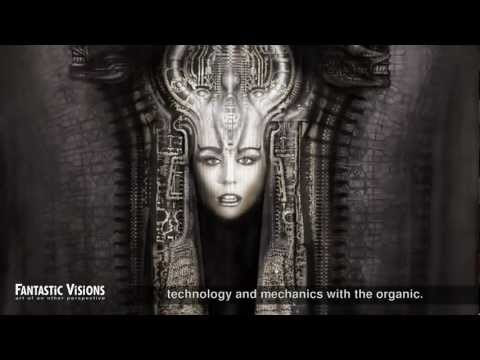 Giger's work is essentially characterized by the recurrent fusion of technology and mechanics with the organic. In addition to drawings, paintings and sculptures will be on display as well as furniture and, of course world famous Giger's "Alien."
His design for the science fiction film "Alien" in 1980 won him an Oscar in the category "Best Visual Effects for Archievement" and global recognition to this day. There are evident influences of Fantastic Realism which relate to his friendship with one of its founders, Ernst Fuchs. But his passion belongs with biomechanic fantasy.
Fantastic Visions interviewed Giger artwork collector Marco Witzig, who explains how he started collecting and the special friendship he has with Giger today.
"As a child I saw an exhibition of Giger's artwork, and it left an impression on me. I liked it very much. Then of course like many people I also saw Giger's work in Aliens. That left a lasting impression. I then had an exhibition catalogue that also worked on my mind. Later like many fans I started collecting posters and album covers. As a student I also had posters in the apartment.
At the end of my studies I purchased some original graphics from a gallery. Then I went on to buy some sketches. One thing led to another and I was collecting and dealing. Eventually I had a substantial collection. I then started helping Giger with exhibitions and cataloguing his artworks. I have many works and he also helped me, and gave me tips about few artworks. Therefore I am always happy to loan out my collection. He doesn't have to take works out of his museum for exhibitions and can always use mine.
Most collectors hang onto their artworks and won't loan them out because they fear something might happen. I also am a little nervous, but I am happy when I can show the artworks. Giger is also happy with this arrangement. He knows the works are always available and this has strengthened our friendship."
A special mention must also be made of the effort and work that Dr. Cornelia Mensdorff-Pouilly put into bringing the right people together to make the exhibition a reality. Following the success of the Ernst Fuchs exhibiton at the Fabrik der Künste in 2011, she then set about to bring H.R. Giger also to Hamburg, resulting in the Fabrik der Künster presenting another successful high profile exhibition.
H.R. Giger – Retrospective
Opening: 20th January 2012, 6pm
Duration: 20 January to 4 March 2012
Opening times: Tues – Sat 2pm – 7pm, Sun 11am – 6pm
Fabrik der Künste
20537 Hamburg
Kreuzbrook 10/12
Tel: 040 / 86 68 57 17
www.fabrikderkuenste.de
Photos
Donate
Donate to the Fantastic Visions project.