Phoenix and Dragons Exhibition Grand Palais 2011
Each year, Lukáš Kándl presents at the Salon Comparaisons, in Paris, a special themed exhibition of hand picked artists working in Magical Realism and its related directions. This is the sixth themed exhibition he has presented there. All artworks follow the theme of phoenix and dragons, and are all painted on a round format. Nineteen international artists from three continents exhibited their artwork in the exhibition.
On the day Fantastic Visions visited the exhibition "Phoenix and Dragons", Japanese artist Shoji Tanaka and his wife Seiko, also attended and met Lukáš Kándl first time.
Other Paris based artists, Hugues Gillet and Liba Waring Stambollion also joined us at the Grand Palais.
Liba who originally joined us at the exhibition as visitor, quickly fell into the role of translator, providing translations between English and French. Seiko Tanaka gave the translations between French and Japanese. The afternoon proved to be a very interesting cultural meeting point which revolved around Fantastic Art and learning about the work that Lukáš and Françoise Kándl do to promote it.
Shoji Tanaka who was in Paris to curate and open his own group exhibition, L'Art GENSO, was fascinated and impressed with the artwork in the Phoenix and Dragons exhibition.
Lukáš Kándl and his wife Françoise who are both responsible for the exhibitions explained some of the work involved.
Video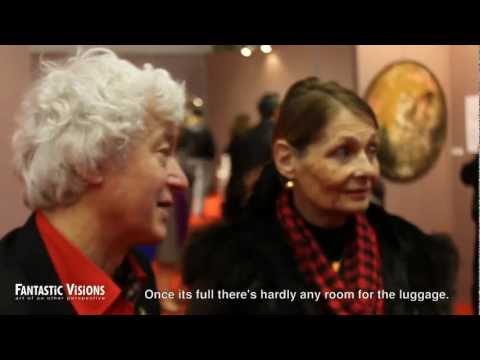 Donate
Donate to the Fantastic Visions project.