When writing up the event listings for Fantastic Visions, it became obvious that two exhibitions were occurring very close to each other in Paris. Lukáš Kándl had his regular presentation of hand picked artists and new exhibition theme, "Phoenix and Dragons" on display at the Grand Palais. Directly following the closing of this was the opening of Shoji Tanaka's new Genso project. Since neither artist had met each other, and both seemingly have similar goals with their projects, Fantastic Visions set about to bring the two together in the hope that it may spark a fruitful relationship and possible future collaborations.
After a number of weeks of email exchanges, an appointment was set for Saturday the 26th at Salon Comparaisons in the Grand Palais where Lukáš and his wife Françoise would be attending to their exhibition stand.
On the day Paris artists Liba Waring Stambollion and Hugues Gillet also were present. Liba naturally fell into the role of the English translator and Shoji's wife, Seiko translated back and forth with Japanese.
After the initial introductions and handshakes we all took a look around at the quality artwork that Lukáš and Françoise had on display. The Kándl's are very selective about the artists and the artwork that they admit into their shows for quality reasons and an overall unity in presentation. There are also more practical reasons such limited exhibition space and transport costs which keep the exhibitions manageable for the husband and wife team.
Not only do Lukáš and Françoise set the theme for the exhibition, they also set a format for the artwork. This year all artworks were round. Another occassion, the paintings took the format of exclamation marks!
After looking at the artwork, Lukáš and Shoji started discussing what the future may hold for the two of them. At this point we can not reveal anything but will bring the news to you as soon as official announcements are made.
Photos
Video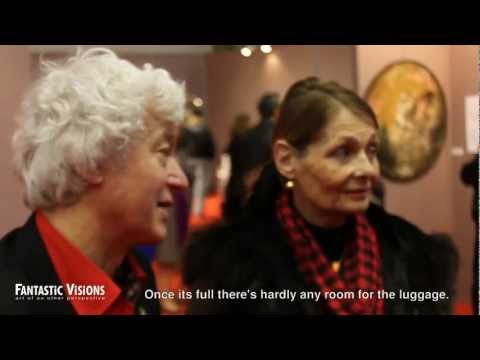 Donate
Donate to the Fantastic Visions project.